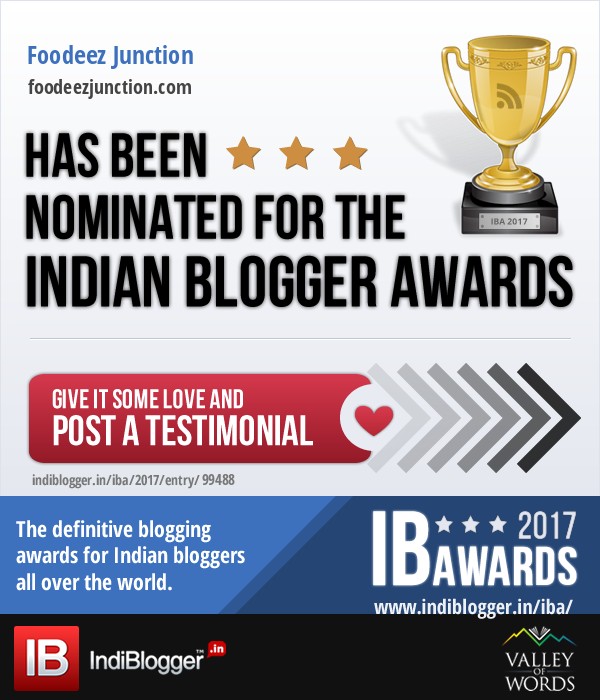 This food blog features a bunch of recipes and restaurant reviews.
We started Foodeez junction as a recipe blog and now have expanded it with the food and restaurant reviews too.
Reviews
We do restaurant reviews every 15th and 30th of the month on Zomato and sometimes on our Blog too. We have started with Hyderabad restaurants with the first review of Four Seasons and now we are covering Delhi NCR too. The Restaurant PRs or the owners can contact us for further collaboration at foodeezjunction@gmail.com.
Recipes
All the recipes, mainly Indian, mentioned here are tried and tested in our kitchen, exception being the guest post. We assure you as soon as we try the recipes from the guest posts we will update on that respective post itself. If you are looking for easy-to-cook recipes, Foodeez Junction (or FJ as we call it) is the place. It is true that cooking is an art. You don't require any degree! Patience, Focus and Practice is all that makes you a Chef! We call it a form of 'meditation'.
Foodeez Junction is here to help you in cooking Indian cuisines. Stay calm. Make a variety of Indian dishes at your in-house party to gather attention of your guests! Apart from recipes, we invite "the chefs", "the cooks" and "the foodies" out there to share their experiences in cooking, and encourage the newbies to excel in this art!
Truly, we want you to be the best!
Write or Contact Us
If you want to write for us, you are welcome. If you want us to review your restaurant, we will happily do it but we'll share our own opinion and publish on FJ. We also have Press Release section, so that any restaurant in India can send us their latest launch or fest story. We are open for collaborations. For media inquiries, kindly email us at foodeezjunction@gmail.com.
We will be delighted to hear from you! Even a Hi would make our day 🙂
In next three months, we will be completing a year. We are excited but nervous to know if we are helping you in serving the purpose that involves only FOOD. We need YOUR help in meeting our purpose.
Here is the link to Google Form, so that, as a foodie, you can help us growing as a BIG FOODIE FAMILY.
https://goo.gl/forms/qf3JEy0oTgs0NYv02